Full Bio
Chapter 1
Composer and virtuoso bassist Eduardo Del Signore's life story is an extraordinary journey, a musical path driven by exceptional strokes of fate and framed by the extreme political realities of his native Uruguay in the late 20th century.
Eduardo Del Signore was born in Montevideo, Uruguay in the mid 1950s; his father was a career naval officer of Lebanese descent, and his mother was a professional stylist whose family had emigrated from Italy. He spent his childhood in one of Montevideo's "Candombe nations", the urban neighborhoods - with their distinctive and very musical culture - that had descended from the Colonial slave communities who had been brought to Uruguay from Angola, Ghana, and Mozambique.
Historically, Uruguay changed hands many times from Spanish to Portuguese to British rule since the 16th century, hence its ethnic identity is very mixed, not to mention the various African cultures introduced during the age of the slave trade. Yet no truly indigenous people remain. The last known family of the proud Charruas people - who had resisted every colonization effort with vehement defiance for centuries - were purchased by a French promoter in 1833 and taken to Paris as captives, to be put on exhibit in a novelty show. The shackled "savages from South America" were thrown only raw meat before the paying spectators - and they slowly starved to death. Fortunately for us, their culture had been documented by a Spaniard who'd survived a Charruas massacre and was taken in by the tribe, later returning to Spain to write about his experience among the Charruas.
Eduardo Del Signore feels that some other things have indeed survived from his land's ancient, vanished culture. There are words and names - e.g., "Uruguay", which in the old language means "the river of the colorful birds". But more importantly, the feeling of being free, close to nature, and vibrantly alive is something he feels was instilled in the land itself by its indigenous peoples' character. This same feeling is exuded by the rhythmic tradition of Candombe - the drumming once used as a strategic battle rhythm in Africa, when drummers traveled ahead of a war party to disconcert the enemy by drumming - the syncopated rhythms, creating illusion and disorientation. To the new world, African slaves brought these lively traditions, which over time melded with the indigenous culture as well as those of the European colonisers.
Late at night, in the Candombe nation where Edu grew up - the most war-like and aggressive one in its rhythmic attitude - bands of local drummers gathered to march and drum, with the densely-packed old buildings of the "nation" resonating like one big amplifier. As a child, Edu heard them at night, and sometimes his father got him out of bed and took him out into the streets to see the drummers go by. For the three year old, it was complete ecstasy - he didn't understand why, but it made him cry with sheer jubilation, and it was his first exposure to the deep magic that music can be.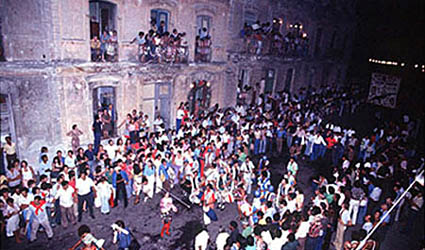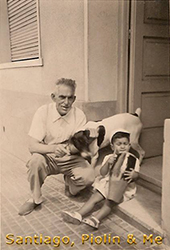 Tango was also an ever-present element of his childhood - with the great star Carlos Gardel on the kitchen radio while his grandmother was cooking. Tango also evolved directly from Candombe - not only from Argentinian bordellos - and the word, originally pronounced Tan-GO', is African and means a physical place where slaves gathered to dance and drum - akin to the word Con-GO' (as in New Orleans' Congo Square).
But for Edu, the next experience that brought back that transcendent feeling was hearing the Beatles on the radio for the first time. It was not their unintelligible English words, but something about the sound and the spirit of their music had that same intensity as seeing the drums, and deeply moved him.
Chapter 2
He learned to play guitar at age 9 at a local school for the arts that taught music, dance and poetry. His early repertoire was limited to folkloric songs - not the percussive African traditions but music from the Spanish and the gauchos. But by the time he was 14, he was jamming with friends at his family's beach house, playing Candombe rhythms on a big tambourine - until a friend fashioned a handmade bass for him from an old electric guitar, carved, painted black and decorated with a peace sign. It was a vehicle for both melody and percussion, both beauty and the beat - the perfect instrument in his hands. He went on to study with several teachers, including the great upright bassist Federico Garcia Vigil, who played with various jazz and tango groups in Uruguay, and became conductor of the Orquesta Filarmonica de Montevideo.
Edu was expected to follow his father's footsteps in the Navy, but he was coming of age under the vicious dictatorship of a military junta, and he didn't like what he was seeing. Friends disappeared, people were being tortured, and killed in the streets. A musician friend's teeth were knocked out by the butt of a soldier's rifle. Instead of the naval academy, Edu opted to study agricultural engineering at university, but he was feeling unfulfilled, conflicted, and without real passion or mission in his life.
Chapter 3
In 1975, fate intervened for the first of many times. At only twenty years old, Edu won the Uruguayan state lottery. His new found financial independence gave him the freedom to take a serious break - and time to really think about what he wanted to do with his life. Music was clearly the path.
He began playing bass professionally, eventually landing in a band called Gula Matari - their name taken from a Quincy Jones album. After one of their gigs, he met some colorful characters from the audience - two nautical nomads, Franco-Algerian and Senegalese, who were wandering the seas on a sailing boat. They proposed the imaginative idea of marrying navigation with music, and invited Edu onboard their boat - where he lived for the next two years, travelling the Atlantic coast and playing music.
Playing on the boat, in a tight living environment but out on the broad horizon of the high seas, they'd plug their instruments into a cassette player and run speakers from it - and the whole wooden boat and mast would vibrate with their music. They spent a month on an island south of Rio, meeting only people like themselves, ocean nomads living off the sea and moving around. They would have parties with three vessels tied together and the band playing in the middle boat - and their musical chops were growing ever more refined and intense. The last survivor of the indigenous Charruas people had been Tacuabe', known (before being exported to France) as a horse-whisperer, who could tame horses by talking. The itinerant seafaring band was dubbed 'Tacuabe', in his honor.

Chapter 4
They made their way to Rio in 1977, where Edu met Milton Nascimento for the first time. Milton came to visit the boat and Tacuabe' performed for him. He immediately invited them to record. Milton was about to leave for his own sessions at A&M Studios in Hollywood, but before leaving town, he booked studio time for Tacuabe' at EMI Rio de Janeiro - and the band recorded on Clube Da Esquina 2, which is still available today as part of a box set with Milton's earlier recording of the same name. Recording with Milton instigated lots of demand for them in Brazil, where they offered something fresh and different, bringing to the mix not only Candombe rhythms from Uruguay but also sounds from Chile, Argentina, Venezuela, Bolivia and Peru . They lived on their boat for awhile longer, anchored for almost a year at the picturesque Buzios peninsula, north of Rio.
Hiking in Buzios one day, at a trail head overlooking the sunrise over the sea, a melody came into Edu's head - which many years later became the first track of his 2009 album Page Zero, with a melody he had never forgotten in over three decades since that morning hike.
The band had no phones, but Milton somehow found them again and invited them back to the city, where a lot of lucrative recording and touring activity ensued - something unheard of at the time back in Uruguay. Nevertheless, Edu returned to Uruguay for the birth of his son in 1980. In 1981, an expatriate star named Jaime Roos returned from exile in Paris and organized a group of fellow returned expatriate musicians for a concert at the 5,000 seat stadium, Palacio Penarol, which generated a lot of press. From then on, Edu became a sought-after session bassist, recording over 60 albums with various artists.
Chapter 5
That same year, he met and began studying with Prem Rawat, a master teacher whose invitation to a gathering in Miami opened the door to America for Edu, at a time when Uruguayans were largely denied visas. He remained for a while in Florida, then managed to reconnect with guitarist Freddy Ramos, now in Los Angeles, who encouraged him to travel west. With $150 and his girlfriend, he rode a Greyhound bus through the redneck Riviera, New Orleans, and Arizona, arriving in L.A. after four days. Freddy was there to meet him in the parking lot of a McDonald's on Vine Street in Hollywood.
Edu did a lot of session work, played with Brazilian bands around town, and met the late Moacir Santos - a true musician's musician who became his mentor. He studied with Santos and also at the Musicians' Institute, where he heard about a session needing someone who could play Candombe on the bass; it turned out to be a Windham Hill session for an album by Rubaja and Hernandez - High Plateaux, produced by Mark Isham. It led to a collaboration with Rubaja, Freddy and Edu, who recorded Newland - which came out on the Narada label.
Through Valentina Vargas, a Chilean actress turned singer/songwriter with whom he still works today, he met English producer David Tickle in 1988 - who called him to play a session the following year with Jon Anderson (of YES) and Vangelis, for the album Page of Life (Arista/Higher Octave). This was a fortuitous meeting, forming the basis for a longstanding creative friendship with Anderson that endures to this day.
Chapter 6
In 1991, Jose Luis Perez - the drummer from Tacuabe', the band on the boat - came to L.A. from Sweden, where he had long been living in exile from Uruguay's military dictatorship. He'd gotten grant money in Sweden to write a book about Candombe, but decided to first find Edu and Freddy - who was just graduating from CalArts, and needed to stage a performance as part of his commencement activities - and so the band 'Ritual' was born. At the same time, Edu was house-sitting at David Tickle's huge Calabasas home with a recording studio at his disposal - and Ritual had carte blanche. The trio brought in Brazilian keyboardist Tuca Camargo, Steve Fowler (flute and sax) and Charles Moore (trumpet). They recorded 4-5 songs a day, and made their debut album 'Presencia', which was released in Uruguay and by an indie label in the U.S.
Ritual went on to record three albums together, toured Japan and did a major concert event in Uruguay. They began some touring in the USA, but children and family commitments increasingly made demands on the band's time. Ritual didn't break up but got back-burned - and Edu began to focus more and more upon his solo direction.
Chapter 7
Jon Anderson wanted to produce an album for him, and their sessions from 1995 to 2000 yielded the songs for 'Captivated', Edu's solo debut which included performances by such diverse guest artists as Jon Hassell, Dionne Warwick, and Kei Akagi (of Miles Davis group). As Edu was packing up after one of the sessions, a guest in the studio was Al Jarreau - the first person to tell him, in an off-handed comment, that he really should teach music; Edu has now been an active professional music instructor for many years in and around Malibu and Los Angeles.
Chapter 8
In 2004, Edu began work on his concept for an album that would become 'Page Zero', spearheaded by the recollection of the song "First Answer Buzios" that he had first conceived on that scenic trail head back on the peninsula. That same year he was invited by Milton Nascimento to spend a month back in Brazil before his annual visit to Uruguay. They vacationed in Buzios - Edu's first visit there in 26 years. Traveling with his Roland 1880 portable studio, he recorded the ocean at 2 a.m. - and these are the first sounds you hear on his new album. He recorded a few more songs, and upon his return from Uruguay began to really focus on the project.
Edu says "Page Zero is me. When I start a book I start at page one, but I am part of the process - you are the one that is seeing and experiencing what is being read. In our society, most people don't have the time to read their own page; they know more about their neighbors than they do about themselves". With this concept, the album became a self-portrait - expressing his sense of simple peace and reflection, closeness to nature...his most intimate core, musically speaking. The album became a process of discovering his own interior musical world and translating it into intelligible creative soundscapes of texture and rhythm.
All instrumental performances on the album are by Edu Del Signore, except for one guitar performance by his student Annie Warren on the final track. Guest vocalists are Daya Rawat on five songs, Marcel Adjibi from Benin, and Jesus Figueroa from Uruguay. Edu contributes vocals on four songs - and plays guitar, keyboards, bass, percussion, and programming. He recorded and mixed the album at his Malibu studio and released it independently through his A Call To Peace Multimedia Events in 2009, signing with BFM Digital for digital distribution worldwide. The digital album includes a bonus track, "Carry Me Away", with lyrics by Prem Rawat and vocals by Chilean singer Valentina Vargas.
Chapter 9
Edu continues to compose, record, teach and produce records for other artists both in Los Angeles and has created 'A Call To Peace' as a channel for his whole body of work and as an effort to spread the realization that peace starts with each and every individual. To this end he organizes concert events in South America with Jon Anderson and Milton Nascimento - with events in Brazil and Uruguay, in September 2009 - and is now at work on staging a conceptual festival in North America, where music can become a vessel of real social change and personal growth. The spirit of these projects is clear in the sweeping, graceful sounds of 'Page Zero', refreshing the spirit and nourishing the heart.
And the journey continues...